It's no secret that modern enterprises have grown scarily complex in the digital age. But are they more complex than they need to be? Many of the best approaches favour simplicity because it cuts through the noise and offers clarity. Assigning a single metric ("One Metric That Matters") for a set period of time can be a powerful antidote to organisational confusion and is a powerful message that clarity is valued over more content.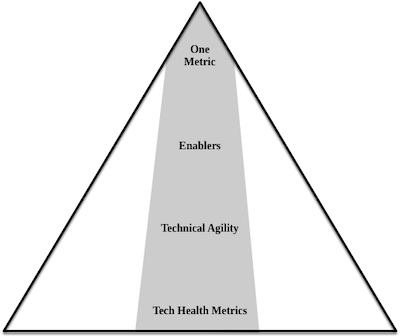 My idea is that the weirdness of the system results from applying inorganic ideas to a large organic system in the context of a globalised digital marketplace. At some point people start looking for answer: Why are we doing this? Where do we want to go? How do we want to get there? Definitive responses are hard to find.
Complexity takes on the form of the more overt in the form of:
conflicting priorities,
matrix reporting structure,
unclear target product value.
And the more covert are even more damaging and include:
political agendas and in-battles,
general information overload,
a culture that lacks transparency.
It becomes difficult to understand intentions and to therefore engage with meaningful work.
Defining and advertising One Metric That Matters for a set period of communicates a powerful message of intention. It boldly commits to everything pointing in the same direction and opens up to the possibility of failure. It is aligned to the Vision (where to go), Values (what do we care about in getting there), and sets end Goals (what are the places we want to get to on the way.)
The target could be something that should be cause for celebration: including customer growth of employee engagement. It is an experiment and therefore need to be falisifiable, realistic and inspiring.